It might just be enough to kill your buzz: A new study challenges the idea that a drink or two a day could actually be good for you.
Reichl takes on her decade as editor in chief of Gourmet magazine in her new memoir, "Save Me the Plums."
CBD oil-infused gummy bears, lattes and other food, drinks and dietary supplements are selling quickly even though the U.S. government says they're illegal and local authorities have forced some retailers to pull products.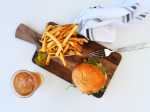 One of the most-anticipated and flavorful culinary events in Southern California, Greater Palm Springs Restaurant Week (dineGPS), returns to the lush oasis May 31-June 9, 2019.
Nearly a third of all food Americans eat makes them feel guilty, according to new research.
Food enthusiasts can now head to northern Spain for a Michelin meal-inspired itinerary through some of the region's most notable restaurants.
UNICO 20º87º's Superbia Summer returns for its second year of exceptional food, mixology and entertainment
Texas' attorney general opened an investigation Thursday into San Antonio's decision to exclude Chick-fil-A from opening airport concession facilities due to the fast-food chain owners' record on LGBT issues.
Avoid fast food, eat vegetables and exercise. It sounds like generic health advice, but they're tips supposedly tailored to my DNA profile.
Could you eat more than three pounds of bacon, 14 tacos, or six large orders of French fries in one sitting? These are just some of the massive snacks Americans claim to have eaten when drunk.