WorldPride: 4 Can't-Miss Spots To Eat and Drink Near Signature Events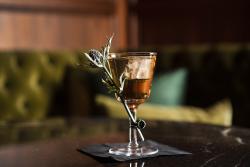 If New York City is considered the center of the world and Times Square is its epicenter, then World Pride 2019 is diving right into the heart. The closing ceremonies featuring Melissa Etheridge and many other fetes throughout the week will be right in that glowing, spectacle that is Times Square.
Feeling like there's so much to do, so little time, and not sure where to eat and drink before and after it all? Here are our top picks for some sweet spots in Times Square and it's delightful LGBTQ-friendly adjacent neighborhood, Hell's Kitchen.
STK MIDTOWN
Just east of Times Square at the Playstation Theater, LPAC presents Levity and Justice for All, a night celebrating women and comedy on June 25. Highlighting the evening, this year's Champion of Change award nominees are Lena Waithe, Hannah Gadsby and Janelle Monae, along with the hilarious comedienne Gina Yashire.
What better to sink your teeth into before the comedy stylings begin but a big old juicy steak at STK Midtown? Gleaming with opulence, STK Midtown looks like a pristine airline hanger in heaven. Towering windows surround luxurious white banquets and impossibly tall center flower arrangements. The sleek staff bustles amid the buzzy dining room with live DJ, attracting more than your grandfather's meat and potatoes crowd.



Steaks are curated from Linz Certified Black Angus Program, hailing mostly from Nebraska and Iowa. With nearly a dozen cuts available on the menu, they've got you covered whether you like your steak petit and lean (6 or 10 oz. filet mignon) or hefty and richly marbled (34 oz. dry aged tomahawk). No need to go naked at STK Midtown. Mix and match your perfect steak with toppings like truffle butter, Maine lobster and king crab or douse it in one (or more) of classic and modern sauces like bearnaise, blue butter and chimichurri.
Rounding out the meat, STK Midtown offers a bit more variety than the classic NYC havens to beef. Asian inspired, grilled sea bass is hearty for those sidestepping red meat, while the Colorado lamb chops play with bold Moroccan flavors with its green chickpea hummus and spiced jus.
STK Midtown
1114 6th Avenue

TIMES SQUARE EDITION
When cramming your Pride calendar full of events, make sure to fit in a Broadway show since you'll be spending so much time near the Great White Way. One of the biggest hits of the season is The Prom. The musical tells the story of Emma, a high schooler who takes on her small-minded town (with the help of some Broadway performers looking for some public relations exposure) when she decides to take her girlfriend to the prom.
Begin your Broadway night out at the gloriously posh and curated Times Square EDITION. Ian Schrager's newest New York city venture, which features four distinct dining and drinking meccas each with their own cocktail and wine programs specifically designed for the space and the vibe.
Starting at the top (literally), 701 West, EDITION's fine dining venue, captures that ubiquitous feeling of elegance and warmth at the same time. The Salon, with opulent chartreuse booths lining the space, has no bar seats to sidle. The bar itself becomes a showpiece, with its graceful and expert staff working to create exceptional libations. Pick your bubbles and stemware from their roving champagne cart, or start with one of the expertly and creatively crafted cocktails like the Signature Manhattan featuring Chef John Fraser's own bottling of Maker's Mark, housemade vermouth and bitters. Dinners here are crafted with the wine first in mind. Each of the servers at 701 West is a sommelier, and the kitchen builds each tasting menu around your wine selection.



The Terrace and Outdoor Gardens each offers slivers of the crowds below in Times Square (you'll have to catch a gaze between the towering hedgerows) all with the elegance and care of a first-rate mix of French brasserie and American chophouse by Chef John Fraser. The Lobby Bar takes all the comforts and ease of a classic hotel lobby bar and amps it up in every great way possible. There's a warmth of familiarity in the staff and their convivial attitude but, oh, so much more intent than your run of the mill hotel, featuring an all-American wine list and a cocktail program that highlights spritzes and playful drinks like the Green Goblin (gin, fennel, lime and yellow chartreuse).
Finally, Paradise Club is truly an experience, blending dinner theater and supper club all through the lens of The House of Yes. Paradise Club is hotter than hot, flanked by murals of heaven and hell. The show, "The Devouring: A Marriage of Heaven and Hell" is only matched in sensuality and hedonism by the multi-sensory tasting menu and inspired Manhattan cart.
The Times Square Edition
701 7th Avenue

THE POLYNESIAN
One of Pride's hottest parties is also one of the most exclusive. The VIP Rooftop Party (June 29), in its ninth year, outgrew its previous Hell's Kitchen location and will now be held at The Park in nearby Chelsea. Featuring DJ Kitty Glitter, DJ Toy Armada, DJ Ben Baker and DJ Grind, it will definitely be a place to see and be seen.
Missed your chance to get tickets to the VIP Rooftop Party (VIP packages have been sold out for weeks already)? Make your own high-in-the-sky party... and give it an island spin. The Polynesian, tucked away in Hell's Kitchen Pod Hotel 42, boasts an expansive outdoor terrace for you to sip your umbrella-ed libations in the summer breeze high above the hustle of the edge of Times Square.
Self-described pirate, master mixologist Brian Miller (Death & Co., Pegu Club) in conjunction with Major Food Group stands at the helm of this shrine to all that is truly tiki. Don't expect prefab, canned fruit-laden sugar bombs here, Miller's pedigree and extensive experience in some of the most crafty of craft cocktail palaces means he has not only the tiki spirit (of which he does in spades) but also the expertise and intention to build some beautiful drinks.



You can't go wrong at The Polynesian, but some special high notes are the Rita Hayworth, a balanced sweet and tangy blend of overproof tequila, sage, pineapple, chartreuse, honey and lime. The aptly named Make Your Banana Stand is a tall, lovely drink with banana chip-infused rum, juices, bitters and pineapple gardenia mix. This "gardenia mix" is a bit of a hidden secret in tiki wizardry. Concocted initially by Donn Beach of Don the Beachcomber, it's a mixture of butter, honey and spices used in tiki cocktails to give depth and richness.
The room, designed by Vanessa Guilford, steps away from plastic masks and kitch, and dives into the roots of tiki, nodding towards indigenous art forms and traditional Polynesian arts and crafts. Nothing feels forced, but rather, a like a breath of salt air... even if it's blowing off the Hudson River.
The Polynesian
At The Pod Hotel 42
40 W 42nd Street

BONUS:
WorldPride is about much more than parties and offers the opportunity for all spectrums of the LGBTQ community to celebrate. Family Movie Night on June 21. Hosted by Miss Richfield 1981, this year's screening is "Coco" and will take place at Hudson River Park's Pier 45 just west of the Stonewall National Monument.
For parents that want a New York City steakhouse experience with plentiful options for the little ones, head to the nearby Financial District to Brooklyn Chop House, where you'll find classic favorites along with bite-size bites for smaller appetites. Moms and dads can enjoy the 48 oz. porterhouse for two along with other steak options, while kids will delight in the selection of innovative dim sum, including fun riffs on American classics like bacon cheeseburger and Philly cheesesteak. Crispy chicken wontons and steamed edamame round out an accessible menu with enough flair for Pride celebrations.



The Brooklyn Chop House
150 Nassau Street
April Stamm is a lifestyle and food writer and chef based in Manhattan and Brooklyn, NY.
Comments on Facebook