Top Story
Runway met Broadway when The Blonds took to the stage of the splashy musical "Moulin Rouge."
A naïve streak is running through the collections on preview during Milan Fashion Week — with a return to simpler times, yesteryear prints and patterns and unfussy silhouettes.
Walgreens and a Google affiliate are testing drone deliveries that can put drugstore products on customer doorsteps minutes after being ordered.
Prada, Arthur Arbesser, No. 21, Jil Sander and more hit the runway in Milan with their spring/summer 2020 collections.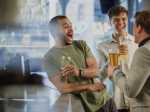 Beer and wine tourism is on the rise, as seven in 10 Americans have traveled to a destination specifically to sample the alcohol in the region.
Highlights from Wednesday's shows launching Milan Fashion Week of mostly womenswear previews for spring/summer 2020: