Top Story
A beautiful day and the biggest crowd in history made this year's Boston Pride Parade and Festival one of the biggest events this year in the city.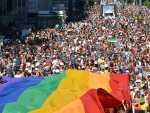 Feeling like there's so much to do, so little time, and not sure where to eat and drink before and after it all? Here are our top picks for some sweet spots in Times Square and it's delightful LGBTQ-friendly adjacent neighborhood, Hell's Kitchen.
The largest gay pride parade in the Middle East drew hundreds of thousands of revelers and demonstrators from all over to the streets of Tel Aviv on Friday.
Key West sure does know how to throw a Pride Tea Dance! A great time was had by all who attended. The Key West Business Guild and the Stoli Key West Cocktail Classic presented a $5000 check to MCC Church. Check out all the fun.
At a show in London Monday, Halsey wore a t-shirt with the image of Melania Geymonat and her partner on one side, and the tagline "Fuck Your Straight Pride" on the back. Watch her emotional speech below.
Self-described "straight, country boy" Cody Barlow believes duct tape really can fix anything, including bigots.
Gay Pride Around the World