1 thru 10 of 6626 Stories
Openly gay tech billionaire and avid Donald Trump supporter Peter Thiel said that Elizabeth Warren is the most "dangerous" Democratic presidential hopeful.
For countless Americans, Trump's words on Sunday sent a stinging message that they are not fully welcome in their own country. But this time, they came not from a stranger or even a political candidate, but straight from the occupant of the Oval Office.
Some big fundraising hauls by Democrats are easing worries that lackluster totals last quarter were a sign the party would struggle to stockpile cash for the general election fight with President Donald Trump.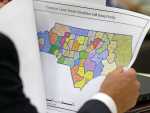 A North Carolina state court trial on whether legislative districts are illegal partisan gerrymanders starts just weeks after the U.S. Supreme Court ruled it wasn't the purview of federal courts to decide if boundaries are politically unfair.
A nonprofit foundation set up by Democratic presidential candidate Joe Biden that relied on health care world partnerships to speed a cure for cancer has suspended its operations, it announced Monday.
Amy McInerney at first saw Joe Biden as Democrats' best hope to beat President Donald Trump — an experienced politician with the potential to peel off some of Trump's working-class supporters. Then she heard Pete Buttigieg speak.
A planned forum on climate change for Democratic presidential candidates is short of several major sponsors after one backer published a vulgar and homophobic story related to gay presidential contender Pete Buttigieg.
The highly public, racially charged rift between House Speaker Nancy Pelosi and a clutch of freshmen congresswomen led by Rep. Alexandra Ocasio-Cortez has spilled into the 2020 Democratic presidential contest.
What's so stunning about former House Speaker Paul Ryan's new admissions regarding President Donald Trump is that his story is now so ordinary.
Four Democratic freshmen who reported squalid conditions at migrant detention stations at the southern border are taking the spotlight at a House committee hearing.
1 thru 10 of 6626 Stories