A Boston resident and longtime ally of the LGBTQ community, Sandra Pelkie, says she went to the so-called "Straight Pride" parade to protest the event and ended up with a fractured wrist after being assaulted by a police officer. This is her account.
A flower shop owner in Washington State who refused floral arrangements for a same-sex wedding and was sued under state non-discrimination laws is looking to take her case to the U.S. Supreme Court for a second time.
A New York City law banning gay conversion therapy would be repealed under legislation introduced over concerns that a pending federal lawsuit could lead to a decision unfavorable to the LGBTQ community if the case were to go to the Supreme Court.
President Donald Trump sought to boost the spirits of Republican lawmakers, mocking Democrats and promising a new tax cut package, as he returned to the city he recently disparaged as a "rat and rodent infested mess."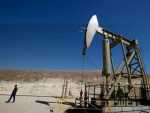 Several Democratic presidential candidates are running on a promise to ban fracking — and stepping on unstable political ground as they do so.
The House Judiciary Committee is preparing for its first impeachment-related vote, set to define procedures for upcoming hearings on President Donald Trump even as some moderates in the caucus are urging the panel to slow down.
On his third Sept. 11 anniversary as president, Donald Trump on Wednesday remembered the victims, first responders and U.S. troops that have battled in Afghanistan, and he unleashed threats against militants contemplating another attack on America.
The California Senate has passed a bill that would give new wage and benefit protections to workers at so-called gig economy companies like Uber and Lyft.
A Christian school near Seattle "clarified" its position on a number of issues, including marriage equality, in an email message sent out over the summer. As a result, some students - and some staff as well - chose not to return in the fall.
The New Jersey Uber driver who tossed a lesbian couple out her car because one of them kissed the other on the cheek is no longer working with the ride share, the company has announced.