One California lawmaker is already working on a way to preserve at least some of the state's environmental muscle: Rebates for electric cars.
President Donald Trump threatened to unleash the Environmental Protection Agency on San Francisco Wednesday after a California visit during which he blamed the homelessness crisis on "liberal" policies.
Droves of former practitioners and proponents have stepped away from so-called "conversion therapy." Now, more are speaking out against the harms it inflicts - including John Smid, formerly associated with Love in Action.
A black Congress member said it "incomprehensible" that after the overdose deaths of two African American men at the apartment of L.A. area gay activist Edward Buck, a third man nearly died there before authorities arrested Buck.
Comedian Sacha Baron Cohen asked a federal judge to dismiss Roy Moore's defamation lawsuit over a television segment that lampooned Moore in the wake of sexual misconduct allegations.
Actress Afton Williamson's claims of misconduct against her on the set of "The Rookie" weren't substantiated by an independent investigator, according to the ABC drama series' producer.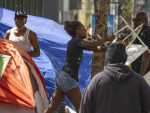 President Donald Trump began a California visit on Tuesday, saying he will do "something" about homelessness but offering no specifics beyond the mention of creating a task force.
In less than three years, Trump has named more former lobbyists to Cabinet-level posts than his most recent predecessors did in eight, putting a substantial amount of oversight in the hands of people with ties to the industries they're regulating.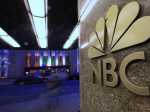 Comcast's NBCUniversal said Tuesday that its upcoming streaming service will be called Peacock, in an homage to NBC's logo. It will become the home for some of the company's most popular shows, including "Parks and Recreation" and "The Office."
Right-wing provocateur Milo Yiannopoulos has a whole new reason to cry: The former Breitbart contributor and darling of the right now finds himself denied entry to a furry convention.