Watch: California 'Straight Pride' Organizer: We're a Racist Group!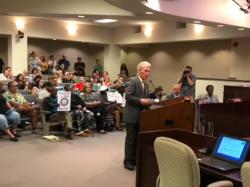 Saying what people are thinking? Telling it like it is? Or just a Freudian slip? However it happened, one of the organizers behind the proposed 'Straight Pride' in Modesto, California, prompted laughter and applause when he declared at a city council meeting that his group, the "National Straight Pride Coalition," is a "racist group," reported San Francisco news source SFGate.
SFGate noted that Don Grundmann is a chiropractor based in the Bay Area, but that he has partnered with a Modesto local, Mylinda Mason, for the proposed "Straight Pride" event. Grundmann's recently-founded "National Straight Pride Coalition" — which consists, so far, of a single chapter — adopts white nationalist rhetoric at its website, where text promotes the idea of the "inherent superiority" of "Western Civilization" — and, by extension, "Caucasians," which the site claims are "the biological majority of the developers and founders of Western Civilization".
The site also offers a grab bag of other hard-right talking points, including suggestions that same-sex marriage and families are not "sane" because they are not heterosexual.
Grundmann appeared before the Modesto city council, where he launched into an aggressive diatribe, insinuating that the city's officials would do nothing if counter-protestors were to show up on the day of the proposed "Straight Pride" event, which would take place in a city park. Grundmann fantasized that the city would "justify attacks against us in that park," saying that "when they come you're going to turn right around and say, well, we deserved it."
Grundmann added, "We haven't done anything. We're a totally peaceful racist group — "
That was as far as it got, as the room exploded in laughter and clapping. The moment was not lost on the council member Grundmann seemed to be haranguing; she covered her face and shook with laughter. Grundmann attempted to plow forward, but his words largely obscured by the crowd's response. When he could be heard again, Grundmann was arguing that his group's tenets are "not hate." Grundmann then told the room that Planned Parenthood was a group to look to for those looking for hate; Grundmann declared that Planned Parenthood has "killed twenty million Americans," prompting another response from the room.
Grundmann was then told that his time was up.
Matthew Mason, the openly gay estranged son of Mylinda Mason, also attended the meeting, as he had said in a video posted days earlier he would do. As previously reported at EDGE, Matthew Mason's video called out the proposed event, calling it "white supremacy masquerading as 'straight pride,' " and declaring himself to be "all for free speech... [but] not when it incites violence."
Mason spoke at the city council meeting, saying of Mylinda Mason, "I have personally heard her use hateful, harmful rhetoric when describing the LGBTQ+ community and non-Christian religious communities," SFGate reported.
Matthew Mason also called out Grundmann, calling him "a radical right-wing fascist from the Bay Area who is attempting to use Modesto as a launching ground for his political and cultural campaign of hate."
News of the Modesto "Straight Pride" event broke after a group in Boston, Massachusetts announced they were seeking permission for a "Straight Pride" parade of their own. City officials in Boston have said that they do not deny or grant permission for public events based on a group's ideology, but rather the feasibility of the proposed event.
Officials in Modesto echoed that policy.
The organizers of the proposed Boston event were exposed as having ties to white nationalists, including the Proud Boys, a national group that calls itself "white chauvinists" and whose members have been known to engage in street fighting at protests and demonstrations.
In his video, Mason insisted that it's the hateful nature of the speech, and its potential to cause violence in the streets of Modesto, to which he objects. Local newspaper The Modesto Bee noted that an organizer of the so-called "Straight Pride" event had announced that the Proud Boys would be attending.
The Proud Boys, however, have said that they are not connected to the event and have no plans to attend, the Modesto Bee reported.
Watch a ModestoNews.com video clip of Grundmann addressing the Modesto City Council below.
Kilian Melloy serves as EDGE Media Network's Assistant Arts Editor. He also reviews theater for WBUR. His professional memberships include the National Lesbian & Gay Journalists Association, the Boston Online Film Critics Association, The Gay and Lesbian Entertainment Critics Association, and the Boston Theater Critics Association's Elliot Norton Awards Committee.
Comments on Facebook