Gay Charlotte: The Latest
Virgil's Sea Room, a queer bar that opened in 2013 in the Mission District of San Francisco, is permanently closing.
"RuPaul's Drag Race All-Stars 6" is moving from VH1 to parent company Viacom's new Paramount+ next month.
In an interview this week, KJ Apa says working on "Riverdale," where the 23-year old New Zealand actor stars as Archie Andrews, is like being in jail.
Israel is experimenting with vaccine passports for public gatherings, but it also raises the prospect of further dividing the world along the lines of wealth and vaccine access, creating ethical and logistical issues.
Late night Wednesday, a same-sex couple in Springfield, Illinois were met with shocking hate speech in a KFC drive through.
With bipartisan support, Legislative Bill 231 reflects the American heartland's understanding that families deserve protection from the ineffective, unethical, unprofessional, and harmful practice of conversion therapy.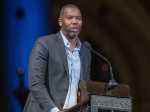 Ta-Nehisi Coates, the acclaimed essayist and novelist who expanded the world of Wakanda for Marvel comics, will write the script for a new "Superman" film from Warner Bros.
Soon-to-open Camp Boomerang RV Park and Campground announced it would open this spring and cater exclusively to gay men, setting off a controversy about transgender guests that's reverberating through the queer camping community.
Most playwrights who dip their toes into musical theater for the first time go small. Not Katori Hall: Her first assignment was to capture the life of a musical giant — Tina Turner.
American popstar Demi Lovato took to Instagram Thursday to say she was "sorry not sorry" for calling gender reveal parties transphobic.
Adult performer and trans activist Buck Angel called 911 to report the assault of Lady Gaga's dog walker. It's also being reported that the FBI is now on the case.
Just over a year since releasing his album "Changes," Justin Bieber revealed on Instagram Friday that he will be dropping another LP, called "Justice." It's out on March 19.
Netflix on Friday released a study it commissioned from top academic researchers that shows the streaming giant is outpacing much of the film industry in the inclusivity of its original films and television series.
The pandemic has motivated many who have been isolated at home or unable to leave their senior communities to learn something they may have resisted until now: how to buy groceries and more online.
As owners are forced to shut businesses, they've had to figure out what to do next. For many entrepreneurs, the answer has been anticipating the next trend and creating a company to take advantage of it.
On the surface, getting out of a car lease isn't difficult. It's the potential financial penalties for doing so that are the issue. Minimizing this financial fallout is key.
Brooklyn's famed Peter Luger Steak House has teamed with Madame Tussauds to have celebrity wax figures mingle with patrons, promoting the easing of coronavirus pandemic restrictions on indoor dining in New York City.
This week, the CDC said gym users should wear masks while working out and urged gyms to improve ventilation and encourage outdoor physical activities whenever possible.
Police arrested a same-sex couple for sharing a kiss on a public beach, declaring that the reason the men were being handcuffed was that the display of affection took place where "children are present."
British police have fined dozens of people for breaking coronavirus restrictions after officers found 150 guests packed into an illegal nightclub in England over the weekend.