Topics :: Fire Island
The annual 4th of July Fire Island Pines drag Invasion was rescheduled due to bad weather but did not disappoint once the ladies arrived serving up a fun day for everyone in attendance.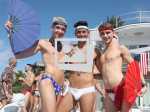 Ty Sunderland and Daniel Nardicio presented their July 4th Red White & Reflections party on Fire Island with Aquaria, Nicky Doll and Tina Burner, all from RuPaul's Drag Race.
The 10th annual Women's Pride in the Pines was held at Whyte Hall featuring a dance party with DJ Susan Levine, a buffet dinner, entertainment from comedian Jessica Kirson, and Jan Sport from RuPaul's Drag Race.
Co-hosts Doug Harris, Nicole LaFountaine, Ryan McNamara, Dr Ed Shulhafer and Crayton Robey joined together for the 29th Annual Sage Fire Island Pines Celebration, in-person at Lepage Pavilion of Whyte Hall.
The Fire Island Grove Ice Palace held its first DWorld Underwear Party of the season. Guests were eager to strip down to their underwear after showing proof of vaccination to get in.
The Fire Island Pines held Low Tea with DJ Mike Borowski. Patrons were admitted with proof of vaccination and a fantastic time was had by all.
The 21st annual Pines Party was held on the beach in the beautiful Fire Island Pines. DJ's for the party were Roger Sanchez & Peter Napoli. A special Broadway worthy show was performed by Pixie Aventura, Iman Le Caire & a gang of lost boy backup dancers
Pines Party held its annual pool party, The Lost Boys Lagoon, at the Pines Club with lost boys, mermaids, pirates and DJ's Scott Martin and Raf.
The 20th annual Pines Party was held on Fire Island with five events leading up to the legendary beach party featuring live performances and DJ sets by Occupy The Disco and Oscar G.
July 4th on Fire Island is celebrated annually with a drag queen invasion from Cherry Grove into the Pines after a drag queen was denied entry to a Fire Island Pines restaurant in 1976.