Gay Charlotte: The Latest
PBS Kids plans to end the long-running children's series after 25 seasons, said an original developer of the show during a podcast released Wednesday. The final season will air in 2022.
ZZ Top's Dusty Hill, the long-bearded bassist for the million-selling Texas blues rock trio known for such hits as "Legs" and "Gimme All Your Lovin'," has died at age 72.
"Better Call Saul" star Bob Odenkirk had a "heart related incident" when he collapsed on the show's New Mexico set, and his condition is stable as he recovers at a hospital.
New guidance from the federal government set off mask rules across the nation Wednesday as cities, states, schools and businesses raced to restore mandates and others pushed back.
While the U.S. Supreme Court in 1948 ruled racially restrictive housing covenants unenforceable, many remain on paper today and can be difficult to remove.
Faced with criticism over human rights issues tied to next year's Beijing Winter Olympics, the IOC said Wednesday that its only responsibility was to "deliver the Games."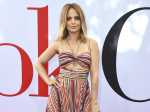 Mena Suvari wants to explain her reasoning for writing about Kevin Spacey on the set of their 1999 film "American Beauty" in her new book "The Great Peace" (Hachette).
Police have arrested a man in connection with a shooting that killed an 18-year-old woman and seriously wounded a 19-year-old social media influencer as they watched "The Forever Purge" at a Southern California movie theater.
The Senate voted Wednesday night to begin work on a nearly $1 trillion national infrastructure plan, acting with sudden speed after weeks of fits and starts.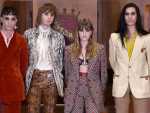 With their androgynous outfits, in-your-face videos and what their lead singer calls "cathartic anger," they're having a blast blurring stereotypes.
Called "the most hated man in Britain," Peter Tatchell has stood up to everyone from Margaret Thatcher and the Catholic church to Russia's oppressive government. Tatchelll recalls the drive for activism in light of a new documentary about his life.
"The Legacy of Chucky" will reportedly follow a teenager struggling with his sexuality in a suburban town.
Spurred by skyrocketing consumer demand during the pandemic, restaurant delivery companies like DoorDash and Uber Eats are expanding their services.
A Canadian geologist may have found the earliest fossil record of animal life on Earth, according to a report published Wednesday in the journal Nature.
If you're the parent of a young adult, you may be asked to co-sign for a car loan or an apartment lease. Before you agree, know what's at stake.
Tesla's quarterly profit has surpassed $1 billion for the first time thanks to the electric car pioneer's ability to navigate through a pandemic-driven computer chip shortage.
McCormick & Co. is voluntarily recalling some seasonings due to possible salmonella contamination.
Delta 8 gummies provide all the benefits of CBD, a milder psychoactive effect than THC, and taste delicious — making it one of the most popular CBD/Delta 8 products on the market.

A gay Cuban American journalist returns to his childhood home of Miami to explore Little Havana's legacy and the impact of queer Cuban culture.
In what may be the first move for LGBTQ businesses in Boston, Jacques' Cabaret — a popular nightclub that caters to drag performers — announced that it has made changes to its COVID-19 protocols, which requires proof of vaccination.