Streaming Reviews
The International Olympic Committee has allowed transgender athletes to participate at the Olympics since 2004, but until this year, none had done so openly.
"Jolt" gives the revenge thriller an electrifying twist, as the cast goes all in for the fun.
A plane hijacking interrupted by a vampire is all that you need to say to get me to sign up.
After a strong start, the "Fear Street" trilogy suffers a setback while traveling back to 1978 for an homage to camp-themed horror films.
A Schoolhouse Rock to combat the decline of democracy in the new millennium.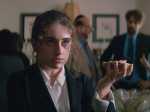 Emma Seligman's witty comedy about a bisexual Jewish woman features stellar performances, sharp writing, and emotional depth. It brilliantly utilizes horror elements to heighten awkward tension.
This disappointing time travel film directed by Chris McKay suffers from poor writing and wastes its cast. It feels like propaganda for the military-industrial complex.
The opening chapter of a new Netflix trilogy is a fun throwback to the slasher films of yesteryear.
She revolutionized the way the world looked at and listened to hip-hop, and now the queen invites her fans into her inner circle in the documentary Amazon Prime documentary chronicling her ascent.
Equal play deserves equal pay.