"Masks and social distancing will need to continue into the foreseeable future — until we have some level of herd immunity," said Dr. Preeti Malani, chief health officer at the University of Michigan. "Masks and distancing are here to stay."
Not only are doctors having trouble getting vaccine for patients, but many of the community-based physicians and medical staff that aren't employed by hospitals or health systems also report mixed results in getting inoculated.
After someone recovers, their immune system should keep them from getting sick again right away. Scientists still don't know exactly how long this immunity lasts or how strong it is.
Health experts say it's vital that these expanded venues be prepared to handle rare but potentially life-threatening allergic reactions.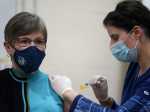 If trials can't go forward, that could very well have an impact on the world's supply of covid vaccines and eventually on vaccine prices, especially if booster shots are needed in years to come.
After a year of toxic stress ignited by so much fear and uncertainty, now is a good time to reset, pay attention to your mental health and develop some healthy ways to manage the pressures going forward.
Doctors in the U.S. and abroad are reporting that a noteworthy number of COVID-19 patients have experienced psychotic symptoms.
Vaccine development in under a year, shattering all records, is a marvel of science. It's also a cause for concern for millions of Americans who fear the uncertainty of an unknown technology.
Experts say it's unclear if that's the case or whether the new coronavirus strains pose any concern for vaccines or cause more severe disease.
As the United States faces out-of-control spikes from COVID-19, with people refusing to take recommended, often even mandated, precautions, our public health announcements feel lame compared with the urgency of the moment.