Top Story
Photos and videos of people partying, which were purportedly taken at the gaycation hotspot Fire Island in New York, went viral over the July 4th weekend.
1 thru 10 of 53838 Stories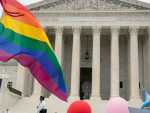 From its first days, the Trump administration has eroded LGBTQ rights and visibility in a number of ways. But a recent Supreme Court decision could open the way for the legal challenges to fend off those attacks.
A Portland man is facing felony charges following an alleged episode of assault and anti-LGBTQ epithets that took place in a supermarket parking lot in Portland, Maine.
Non-LGBTQ people may not see or think about it, but many non-heterosexual and non-cisgender individuals know how bias and discrimination can inflict a cost on personal finances.
Still reeling from the coronavirus pandemic and street protests over the police killing of George Floyd, exhausted cities around the nation are facing yet another challenge: A surge in shootings.
An Oklahoma City realtor says he was beaten unconscious by a pair of assailants who screamed anti-LGBTQ slurs. The pair was arrested and faces misdemeanor charges, reports say.
Pete Buttigieg's next book has a unifying message.
"If you come into the hospital and you're sick, I'm going to take care of you," says registered nurse Jewell Harris Jordan. "But damn, you would think you would want to try to protect the people that are trying to keep you safe."
Proposed federal legislation that would radically transform the nation's criminal justice system was unveiled Tuesday by the Movement for Black Lives.
As monuments and statues fall across the United States, activists and towns are left wondering what to do with empty spaces that once honored historic figures tied to Confederate generals and Spanish conquistadors.
Two Paris gay bars were targeted with graffiti of swastikas over the past week.
1 thru 10 of 53838 Stories