Gay Charlotte: The Latest
New guidance from the federal government set off mask rules across the nation Wednesday as cities, states, schools and businesses raced to restore mandates and others pushed back.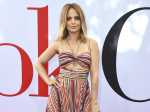 Mena Suvari wants to explain her reasoning for writing about Kevin Spacey on the set of their 1999 film "American Beauty" in her new book "The Great Peace" (Hachette).
Police have arrested a man in connection with a shooting that killed an 18-year-old woman and seriously wounded a 19-year-old social media influencer as they watched "The Forever Purge" at a Southern California movie theater.
The Senate voted Wednesday night to begin work on a nearly $1 trillion national infrastructure plan, acting with sudden speed after weeks of fits and starts.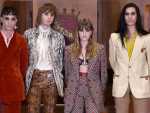 With their androgynous outfits, in-your-face videos and what their lead singer calls "cathartic anger," they're having a blast blurring stereotypes.
"The Legacy of Chucky" will reportedly follow a teenager struggling with his sexuality in a suburban town.
Called "the most hated man in Britain," Peter Tatchell has stood up to everyone from Margaret Thatcher and the Catholic church to Russia's oppressive government. Tatchelll recalls the drive for activism in light of a new documentary about his life.
When John Waters appeared onstage at a recent Colorado Orville Peck concert, he made a confession: "I hate to say this because some of you might take this the wrong way," he told the crowd, "but country music made me gay."
The rapper tweeted apology saying his comments about AIDS/HIV were "insensitive" after receiving massage fans and other music artists spoke out against him, including his "Levitating" collaborator Dua Lipa.
"The way of the fool is right in his own eyes," reads Milos Yiannopoulos from the book of Psalms in a video posted this week on his YouTube channel. It was the line that resonated in a one-minute video to promote his newest venture.
New research presented at this year's Alzheimer's Association International Conference suggests that trans and non-binary people suffer higher rates of subjective cognitive decline
In a leaked Burberry ad, Adam Driver appears to morph into a centaur, but not before showing off his ripped body.
The Seattle-based coffee giant said its revenue soared 78% to $7.5 billion in the April-June period, an all-time high.
Suborbital "space" flights have the potential to be less eye-wateringly expensive than going into orbital outer space and beyond. But before you sign up here are a few things to consider.
Willing a plot of land into a vibrant state of bloom takes intention, know-how and no small amount of trial and error. Here's what my garden taught me about managing money.
Tesla's quarterly profit has surpassed $1 billion for the first time thanks to the electric car pioneer's ability to navigate through a pandemic-driven computer chip shortage.

Though a visit to South America's northwest coast may be a bit out of reach these days, there are exceptional places stateside to celebrate Peru's independence, along with nearby LGBTQ hot spots.
Delta 8 gummies provide all the benefits of CBD, a milder psychoactive effect than THC, and taste delicious — making it one of the most popular CBD/Delta 8 products on the market.

A gay Cuban American journalist returns to his childhood home of Miami to explore Little Havana's legacy and the impact of queer Cuban culture.
In what may be the first move for LGBTQ businesses in Boston, Jacques' Cabaret — a popular nightclub that caters to drag performers — announced that it has made changes to its COVID-19 protocols, which requires proof of vaccination.