Top Story
President Donald Trump is dismissing as fake news and "presidential harassment" a report that he made an unspecified promise during a phone call to a foreign leader that ...
1 thru 10 of 49772 Stories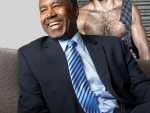 Housing and Urban Development Secretary Ben Carson is coming under fire this week after the Washington Post reported that he made transphobic remarks at an internal meeting to other H.U.D. employees.
The question posed to Pete Buttigieg — gay, married and running for president — came from a supporter at an Iowa campaign stop: What should he tell friends who say America isn't ready to elect a gay man as president?
President Donald Trump repeatedly defended himself Friday against an intelligence whistleblower's potentially explosive complaint, including an allegation of wrongdoing in a reported private conversation Trump had with a foreign leader.
Indonesia's president urged lawmakers on Friday to delay a vote on a proposed new criminal code amid mounting criticism of the bill, which opponents say threatens democracy and discriminates against minorities.
A General Motors offer to invest $7 billion in U.S. facilities includes $2 billion from joint ventures and suppliers for new plants that would pay workers less than the top union wage, a person briefed on the matter said.
President Donald Trump and his team are distorting the facts in explaining the administration's decision to stop California from setting its own emission standards for cars and trucks.
A gay Australian man and his straight brother were "hunted down" by a pack of homophobic teens and viciously beaten, the victim told media outlets. "They were bloodthirsty. They were animals," the victim said.
In a recent interview, 2020 Democratic presidential hopeful Pete Buttigieg said he "can't even read the LGBT media anymore."
The Washington, D.C., Council is considering legislation that would bar people charged with violent offenses from claiming they acted in self-defense after learning the victim was gay or transgender.
Gemmel Moore had moved back home with his mother in Texas two years ago and was missing Los Angeles when he texted a photo of syringe in an arm to a wealthy gay man he knew in California.
1 thru 10 of 49772 Stories