South Florida Gay News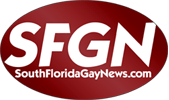 The South Florida Gay News.com celebrates the lives of South Floridians with daily news briefs and storied features, breaking news and lifestyle profiles. Check out their website at southfloridagaynews.com.
Limited staff and resources mean that Latinos Salud can only do so much to fight South Florida's HIV/AIDS epidemic.
The film is based on accounts told by men who have escaped these alleged anti-gay prisons.
After college Tony Plakas knew what his fate would be - as a gay man he would get AIDS and die a slow, agonizing death. It's a story that's familiar with many coming of age gay teens in the 1980s. But that's not what fate had in store for Plakas.
Keiynan Lonsdale, known for his role of Kid Flash on the CW's "The Flash," came out to his fans on Instagram this weekend in an emotional message.
Malone describes the show as "a musical journey from growing up in rural Colorado to becoming an out lesbian protagonist on Broadway" punctuated by the music of Foreigner, Journey, LeAnn Rimes and, of course, some show tunes.
All in all, the event was a celebration of diversity and a testimony to the accomplishments that are possible when the LGBT community and allies work together. But some objected to the inclusion of conservatives in the event.
In an age where gay men are being allegedly persecuted from the southern Russian republic of Chechnya, one group is stepping up to save lives.
The morning after being honored as a global LGBT leader, Senator David Norris of Ireland was back creating controversy.
The National Survey of Older Americans Act is used to help the Department of Health and Human Services decide how it will allocate federal funding. Its erasure of LGBT Americans could have serious impact.
A group of 49 artists from across the country have come together to pay their respects to the victims of Pulse by painting portraits and giving them as gifts to the victims' family members.