Gay Charlotte: The Latest
Abortion is set to be decriminalized and the stage set for legalization of same-sex marriages in Northern Ireland as of midnight, bringing its laws in line with the rest of the U.K.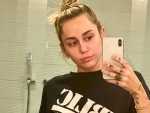 Miley Cyrus is being hit by a wave of backlash after she took to her Instagram Live Sunday and told fans that they "don't have to be gay" because "there are good men out there."
Chris Hemsworth's latest workout video is...a steamy one!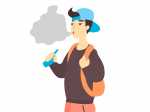 Teens' use of e-cigarettes has doubled since 2017, according to the National Institute on Drug Abuse, with 1 in 4 high school seniors reporting use of a vape in the previous month.
What do you call a delicious combination of all different shapes, sizes, colors, and types? - Aside from pre-Trump America, that is? How about this: "All Together Now."
Jim Parsons is working with Greg Berlanti, the director behind "Love, Simon," to create a docuseries about the LGBTQ movement called "Equal" that will air on the upcoming streaming service HBO Max.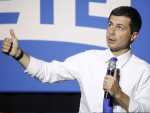 Pete Buttigieg is returning campaign contributions from a former Chicago city attorney who led a vigorous effort to block the release of a video depicting the shooting of Laquan McDonald.
Oscar winner Jennifer Lawrence got married over the weekend in Rhode Island during a ceremony and reception studded with Hollywood stars.
Bill Macy, the character actor whose hangdog expression was a perfect match for his role as the long-suffering foil to Bea Arthur's unyielding feminist on the daring 1970s sitcom "Maude," has died. He was 97.
The shout of "2024!" from the crowd was unmistakable. It stopped Donald Trump Jr. cold.
The Duchess of Sussex says her first year of marriage to Britain's Prince Harry has been hard because of Britain's tabloids.

Criterion's new collector's set "3 Silent Classics by Josef von Sternberg" is one of the year's most important home releases. There's a wealth of rich cultural history across the films and the set's many special features.
British Prime Minister Boris Johnson attempted for a second time to secure lawmakers' backing for his European Union divorce deal on Monday as Parliament geared up for a grueling week of political warfare over Brexit.
The Trump administration is planning to collect DNA samples from asylum-seekers and other migrants detained by immigration officials and will add the information to a massive FBI database used by law enforcement.

Under the Affordable Care Act, nonprofit hospitals are required to provide free or discounted care to patients of meager incomes — or risk losing their tax-exempt status. These price breaks can help people avoid financial catastrophe.
On the picket lines at a General Motors transmission plant in Toledo, Ohio, passing cars honked and striking workers celebrated a tentative contract deal by munching on 10 pizzas dropped off by a supporter.

A clothing company has put up a billboard in New York City's Times Square that depicts President Donald Trump being hog-tied by a woman clad in its athletic wear.
Johnson & Johnson on Friday recalled a single batch of its baby powder as a precaution after government testing found trace amounts of asbestos in one bottle bought online.
Our essential guide for things to do on Oahu, from shopping and beaches to terrific restaurants and one of the best beachfront hotels.

Frank Ocean's Blonded brand is set to host a queer club night called PrEP+, so named for the HIV prevention drugs, and to imagine what the 80s would have been like if PrEP had existed then.