Gay Charlotte: The Latest
There's a troubling link between a fat-rich diet common in the West and brain-related ailments that can actually impair our ability to avoid overeating.
The 20th edition of the GLAM Awards celebrated the best of NYC nightlife. Hosted by Ru Paul's Drag Race's Bob The Drag Queen and Peppermint, this was a night full of amazing performances, camaraderie and so much creativity!
Second lady Karen Pence has a new gig: teaching art at a Christian school in Virginia that doesn't allow gay students, parents or workers.
For decades, Jackie Shane was a musical mystery: a riveting black transgender soul singer who packed out nightclubs in Toronto in the 1960s, but then disappeared after 1971.
As the fifth-season adventures of "Grace and Frankie " begin, viewers can rest assured there's more to come.
New York is set to become the latest state to outlaw the practice of so-called "conversion therapy" on minors with the signature of Gov. Andrew Cuomo.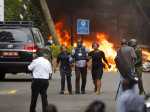 Extremists stormed a luxury hotel in Kenya's capital on Tuesday, setting off thunderous explosions and gunning down people at cafe tables in an attack claimed by Africa's deadliest Islamic militant group.
Fitness and style YouTuber Brett Maverick delivers a workout so you can be superhero strong in 2019.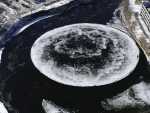 Think of it as a crop circle, but in a river: A curious formation that's getting attention in Greater Portland is actually a spinning ice disk that is roughly 100 yards (91 meters) wide.
The partial federal government shutdown is complicating the already complicated process of getting and managing a mortgage. Here's how the shutdown is affecting homebuyers and homeowners — and what you can do about it.
The Environmental Protection Agency hit a 30-year low in 2018 in the number of pollution cases it referred for criminal prosecution, Justice Department data show.
Why is the accused pedophile R. Kelly still able to maintain a "sex slave cult"? Why is this story not getting more traction in mainstream white media? Why do fans not abandon him? The six-part "Surviving R. Kelly" explores this.
As the partial government shutdown moves through its fourth week with no end in sight, the economic blow is being felt not only by federal workers but also by business people, households and travelers across the country.
Several House Republicans asked T-Mobile, AT&T, Verizon and Sprint how they share their users' cellphone location data, citing a recent report that telecoms are selling that information to shadowy companies without customer knowledge.
Challenging the Trump administration on a top consumer issue, leading congressional liberals are proposing legislation that would radically reduce U.S. prescription drug bills by linking prices to lower costs in other countries.
Volkswagen and Ford say they're forming a global alliance in which they will together develop commercial vans and medium-sized pickups while exploring broader cooperation on battery-powered and autonomous vehicles.
Officials in Key West took the initial steps toward banning the sale of sunscreens containing two ingredients that could be harmful to coral reefs.
For a growing number of patients, a trip to the dentist isn't what it used to be — and that's how they want it.
Federal officials say they are recalling more aviation-safety inspectors who were idled by the partial government shutdown.
With LGBTQ bars closing down, It's easy to assume that we are in a time of decline. But here is a very different story from a Southern Californian city.