Gay Charlotte: The Latest
The parents of Matthew Shepard, the gay college student murdered in 1998, assailed Attorney General William Barr on Wednesday for what they called hypocrisy on LGBT rights.
Rioting raged in Barcelona and several other Catalan towns for a third straight night Wednesday,
Washing his hands of Syria, President Donald Trump declared Wednesday the U.S. has no stake in defending the Kurdish fighters who died by the thousands as America's partners against IS extremists.
Damon Lindelof's adaptation of the "Watchmen" comic series for HBO is a thoughtful and timely drama that's more about race, identity, and America's painful history than cape-wearing superheroes.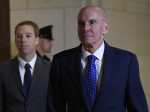 The swift-moving impeachment probe pushed onward Wednesday as a former top State Department aide testified that the Trump administration's politicization of foreign policy contributed to his resignation.
"Tarzan" actor Ron Ely's wife was stabbed to death in their California home by their 30-year-old son, who was then shot and killed by sheriff's deputies, authorities said Wednesday.
The climbers were closing in on the top of California's second-highest peak when they came upon the grisly discovery of what looked like a bone buried in a boulder field.
Elton John, co-writer of the chart-topping 1994 Lion King soundtrack, called the new 2019 version a "huge disappointment" in an interview with GQ. Check out the rest of his comments here.
A proposed ban on so-called conversion therapy in Utah is in danger of being derailed after the influential Church of Jesus of Christ of Latter-day Saints came out in opposition, just months after it said it wouldn't stand in the way of a similar measure.
The parents of Matthew Shepard, the gay college student murdered in 1998, assailed Attorney General William Barr for what they called hypocrisy on LGBT rights during a Justice Department ceremony commemorating a hate-crimes law named after their son.
A Georgia school district says it won't let transgender students use bathrooms aligning with their gender identity, reversing a previous decision.
There's a debate about the truth behind Lizzo's "Truth Hurts."
A dozen Democrats seeking the presidency tussled Tuesday night in a debate packed with policy, flubbing some details in the process.

The western Joshua tree needs protection under the California Endangered Species Act because of threats from climate change and habitat destruction, the Center for Biological Diversity said in a petition Tuesday.

Under the Affordable Care Act, nonprofit hospitals are required to provide free or discounted care to patients of meager incomes — or risk losing their tax-exempt status. These price breaks can help people avoid financial catastrophe.

General Motors CEO Mary Barra joined negotiators at the bargaining table, an indication that a deal may be near to end a monthlong strike by the United Auto Workers union that has paralyzed the company's factories.
From leaving the oven on overnight to forgetting a crucial ingredient in a meal or using salt instead of sugar, more than six in 10 Americans have experienced a cooking catastrophe.

France's lower house of parliament on Tuesday overwhelmingly passed a bill that aims to give single women and lesbian couples legal access to in vitro fertilization, egg freezing and fertility medication.
Romania's autumn fairs are a loud, colorful reminder that summer has come to an end. And for many families in poorer areas of the country, they are one of the few affordable events of the year.

Downtown Las Vegas celebrated its largest Pride yet, with a fabulous nighttime parade and a day and a half of festival fun.