Gay Charlotte: The Latest
Premiere queer global streaming network Revry presents QueerX, the 4th annual queer music, film, and industry festival, takes place from May 31st to June 2nd in West Hollywood, California, sponsored by Lexus.
Cinespia, LA's favorite summer event series, celebrates Pride with a screening of 'The Birdcage' on June 8.
A judge in Chicago has ordered the file in the Jussie Smollett criminal case unsealed.
A federal court has ruled that the husband of "Real Housewives of New Jersey" cast member Teresa Giudice can stay in the U.S. as he appeals deportation to his native Italy.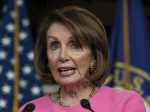 House Speaker Nancy Pelosi openly questioned President Donald Trump's fitness for office Thursday, suggesting a family or staff "intervention" after a dramatic blow-up at a White House meeting the previous day.
The producers of "Magic Mike The Musical" have cancelled a Boston engagement, saying that they don't feel the musical is ready for production.
For kicks and giggles, head to pastoral Chautauqua County to discover the Chautauqua Institution and Jamestown's National Comedy Center.
Following in the footsteps of Alabama Public Television, Arkansas Educational Television Network announced that it did not air the premiere episode of "Arthur" Season 22 because it features a gay cartoon character marrying his partner.
The year is not half over, and the number of measles cases has now exceeded highs not seen since the U.S. was declared measles-free in 2000.
On last week's "Saturday Night Live," host Paul Rudd teamed up with Pete Davidson to rap about their favorite TV shows, including "Grace and Frankie."
Openly gay Democratic 2020 hopeful Pete Buttigieg stood strong in the face of attacks from the Christian right during a May 22 Q&A event, declaring he does have things to repent for - but his devotion to husband Chasten is hardly one of them.
Time to blast off with Elton John's cinematic bio-pic now in theaters.
China's role as the main global supplier of rare earths used in smartphones, lightweight magnets, batteries and other components is leverage over Washington.
Long-running research projects credited with discoveries about the harm that pesticides, air pollution and other hazards pose to children are in jeopardy or shutting down because the Environmental Protection Agency will not commit to their funding.
You won't pay for health care in retirement with one lump sum. That's the way these expenses are often presented, though, and the amounts are terrifying.
One out of six Uber and Lyft drivers in the New York City and Seattle areas are driving vehicles with outstanding recalls, according to Consumer Reports.
This year, Polo Ralph Lauren will unveil the Pride capsule collection, a five-piece gender-neutral collection for adults and children.
Various studies have tried to determine how many concussions there are in any given season in the NHL. There's little doubt to retired players that the total among 700-plus players over nearly 1,300 regular-season games, whatever it may be, is too much.
Six Brazilian tourists were found dead of carbon monoxide poisoning Wednesday inside an old apartment where they were staying in central Santiago.
The annual GLSEN Respect Awards were held at Cipriani 42nd Street to honor the work of student leaders, educators, community organizers, influencers, and corporations who serve as exemplary role models and have made an impact on LGBTQ youth.