Buttigieg has said that "Christian faith" can lead one "in a progressive direction" and argued that Christianity teaches "skepticism of the wealthy and the powerful and the established." A century ago, such views flourished in the Midwest.
A federal judge on Friday ruled that the Trump administration failed to consider potential damage to the environment from its decision to resume coal sales from U.S. lands, but the court stopped short of halting future sales.
Polls opened Sunday in Ukraine's presidential runoff as the nation's incumbent leader struggles to fend off a strong challenge by a comedian who denounces corruption and plays the role of president in a TV sitcom.
At least 30 people were killed and nearly 300 wounded in near simultaneous blasts that rocked three churches and three hotels in Sri Lanka on Easter Sunday, officials said.
Officials say SpaceX's new capsule for astronauts suffered an "anomaly" during a routine engine test firing in Florida, causing smoke to be seen for miles.
European Commission President Jean-Claude Juncker is warning Britain that the country's departure from the European Union cannot be put off "indefinitely."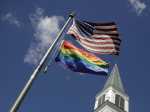 America's largest mainline Protestant denomination is on a path toward likely breakup over differences on same-sex marriage and ordination of LGBT pastors.
In moments of concern as Mueller's investigation into Russian interference in the 2016 election got underway, Trump turned to his spy chiefs for help.
The U.S. ambassador to Poland wished Jews a happy Passover in Polish, and the reaction has been a wave of angry comments on Twitter.
Displaced by a massive fire, Notre Dame Cathedral's Paris parishioners are gathering to celebrate Easter in another church and to pray for a speedy reconstruction of their beloved monument.