The end of summer may be approaching, but that's not stopping actor Jared Leto from sharing some super sexy "hot girl summer" pics.
Larry King is seeking a divorce from his seventh wife, Shawn King, after 22 years.
Regardless of her reputation as a performer, Aretha Franklin's cancer doctors say she was no diva as a patient.
Out actor Colton Haynes has discussed his addiction and mental health in the past but he took to Instagram this week to share photos of himself during "dark times" when he was hospitalized last year after a drug and alcohol bender.
A hearing is set in the city of Chicago's effort to recover costs from actor Jussie Smollett after police said his claims of a racist and anti-gay attack were phony and staged.
Singer Elton John says he's "deeply distressed" by media accounts that criticized the Duke and Duchess of Sussex for taking a private jet to go on vacation despite the flight's carbon impact of the planet.
With a simple "We do," Dwayne "The Rock" Johnson announced his wedding to his longtime girlfriend on Instagram.
Aidy Bryant has rolled out the start of a new plus-size fashion line named for her great aunt, but the "Saturday Night Live" star is starting small with just one dress in three blue styles, a solid, a stripe and a gingham.
Chef Mario Batali, whose career crumbled amid sexual misconduct allegations, no longer owns a stake in Eataly, the Italian marketplaces he once heavily promoted.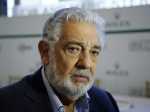 The Los Angeles Opera declined Friday to release any details of its promised investigation into allegations of sexual harassment against opera legend Placido Domingo, the company's longtime general director, including whether it has already started.