Top Story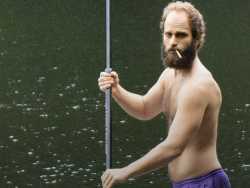 "High Maintenance" returns for its third season on HBO Sunday and it's a reminder that not all TV shows have to be dark and cynical in this overpopulated television ...
M. Night Shyamalan scored his fifth No. 1 movie as the director's "Glass," while not quite the blockbuster some expected, nevertheless dominated Martin Luther King Jr. holiday weekend at the box office with $40.6 million in ticket sales.
The late founder of the Dead Poets Society of America can be inducted to the society of fallen bards now that he's now a published poet.
The Oscars race may have gotten a little clearer Saturday night as the race-themed road trip drama "Green Book" drove off with the top honor at the Producers Guild Awards, winning out over presumed front-runners like "Roma" and ''A Star Is Born."
Justin Timberlake has pulled some sunshine from his pocket for the patients at a Texas children's hospital.
Time Magazine offered Lily Tomlin its cover with the tag line, "Yep, I'm Gay" in 1975. She refused.